Hillwalking Resources
This part of the website provides free resources for hillwalkers interested in the UK's Prominent Peaks. Tables are available in Excel 2003 format from the downloads page. Supporting material is available on using the tables.
The website currently supports the following tables:
All downloadable Excel workbooks have a number of tabs as shown below

'Peak Data' tab contains details of the peaks in that tablelist; information on how to understand the list is provided. Users of the workbooks can track their progress using the 'My Progress' tab; this may be of interest even if people have been focusing on traditional lists. The cumulative data in the tab 'My Progress-Cumulative' tracks progress against different height and prominence thresholds. The 'About' tab provides very simple documentation with full details available on this website.
The Excel workbooks can be accessed from the downloads page subject to terms of use. Workbooks may be filtered or sorted in order to analyse the tables (notes are provided for both Excel 2003 and Excel 2007 users). It is also possible to use the database to create custom hillwalking lists.
There are maps and grid references to support the tables. The tables make reference to Ordnance Survey (OS) maps (or independent surveys) and the National Grids and provide links to Streetmap and Get-a-map which offer OS data online. For geographic overviews, map data can be viewed in either Google Maps or Google Earth is available. The lists match OS data rather than Google data; it is known that there are some discrepancies between different sources of map data.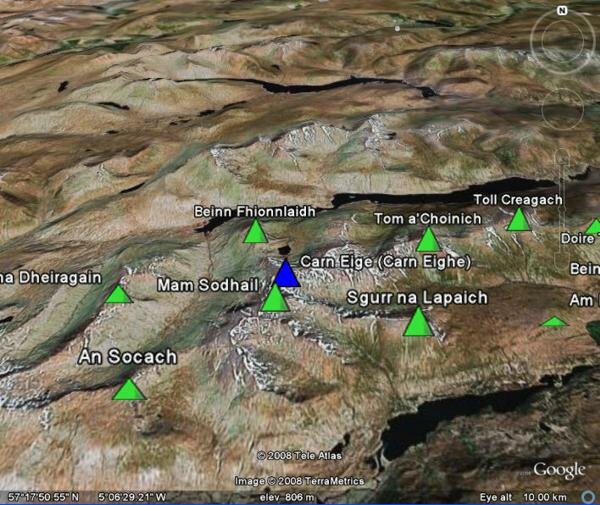 [Screen shot showing Carn Eige area oblique view]
Although Google Earth is regarded by the authors as a less reliable source of map data than OS, the viewing capabilities should provide fun for users.
Finally, links are provided to the Geograph website which aims to provide photo resources for every kilometre grid square in Britain and Ireland; over a million photos have been submitted so far. A database link takes you to the Geograph entry for the kilometre square in which the hill summit resides.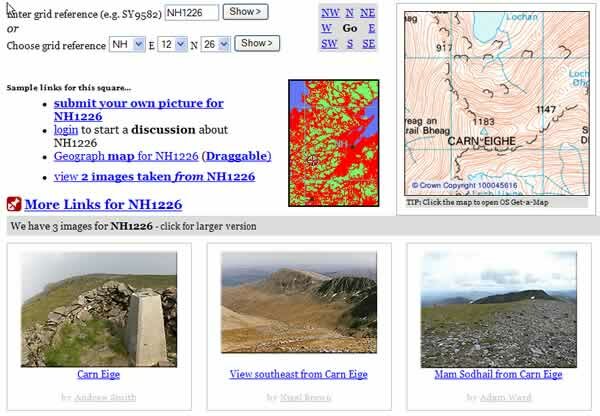 [Geograph screenshot for Carn Eige summit]
As explained in the acknowledgements, the data in the lists draws on a number of sources including OS maps and existing databases and lists. The underlying data for the tables will be subject to change and so it is likely that future revisions will be made.